Case study of toenail fungus treated with ReCverin 50/50 ascorbic acid/dehydroascorbic acid over a 5 year period.
My big toenails on both feet have been thick, yellow, and ugly for at least twenty years. I believe this is due to infection with fungus, but I've never had it examined by a doctor or had lab tests to confirm this.
I've never suffered any pain from this, or noticed any unusual foot odor or problems other than the obvious unsightly appearance. But you can probably guess that at one time many years ago I experimented with using a strong solution of ascorbic acid on my nails.
This I did daily for months, but the results weren't remarkable. (I once had photos of this experiment, but I guess I've lost them). When I became aware of the availability of a serum containing DHAA, I did a lot of reading about this form of vitamin C. I became curious if it might have a different effect on my toenails, so I got some and began this experiment.
Many photos, helpful hints and comments omitted for brevity - the full article is posted at
http://www.vitaminc.kiwi/vitamin_c_dhaa_toenail_fungus.html
Day 0 (August 11, 2011):
The appearance of my toes before beginning.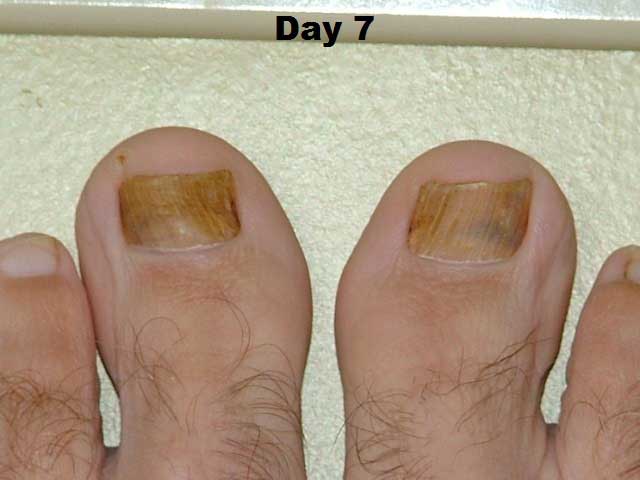 Day 7: Well this isn't what I expected.
After seven days of applying it daily, my nails are staining darker yellow. So much for improving the appearance! But this is much different than when I previously applied ascorbic acid.
I don't recall any color changes when using regular vitamin C.
It's interesting that it appears the darkest staining is in the areas where the infection is worse, and that the skin around the nails isn't stained (except, curiously, the little dot on the left toe). Maybe the infected parts are more permeable? Maybe DHAA is interacting with fungus?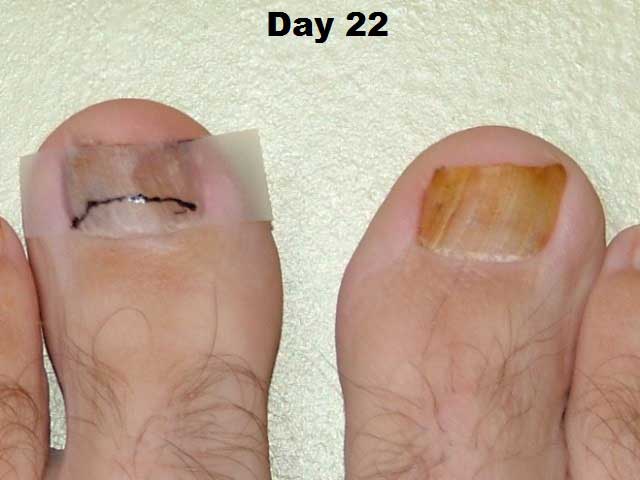 Day 22: After 3 weeks of daily applications, I have discovered something REMARKABLE.
A large portion of each nail has completely detached from the nail bed! To demonstrate the depth of the nail separation, I placed a piece of transparent tape on my left toe, and then I used tweezers with one side inserted under the nail as a gauge to mark the distance on the tape.
The black line is the distance under the nail that I can insert the tweezers without any discomfort whatsoever. The right nail is similar. Using one side of the tweezers I was able, painlessly, to scrape a lot of debris from beneath the nails.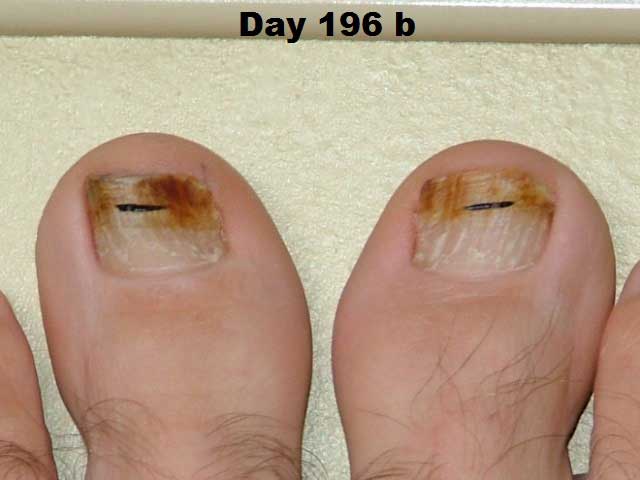 Day 196 : Photo b is a bit disturbing:
I've been applying DHAA serum for the past few days. On the right toenail, the black growth marker seems also to delimit where staining stops.
But the left toenail has staining quite a bit further towards the cuticle, and I think it might indicate that the left toenail has become re-infected.
For the purpose of this experiment it has been interesting to see the progression of the stained areas. However, in hindsight, I think for the purpose of actually getting rid of the infection it would have been better to have completely trimmed off all portions of the nail that had become detached from the nail bed on Day 21.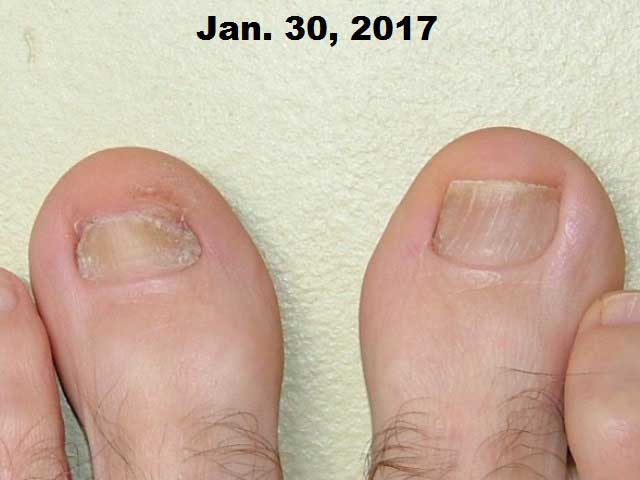 A later example of trimming the dead nail off after a recurrence.
Many photos and comments omitted for brevity - the full article is posted at
http://www.vitaminc.kiwi/vitamin_c_dhaa_toenail_fungus.html
If you have a toenail fungus the whole article is worth reading and ends with good recommendations for removing and yellow stained dead nail during regrowth.
The full article spans five years of intermittent DHAA serum use.