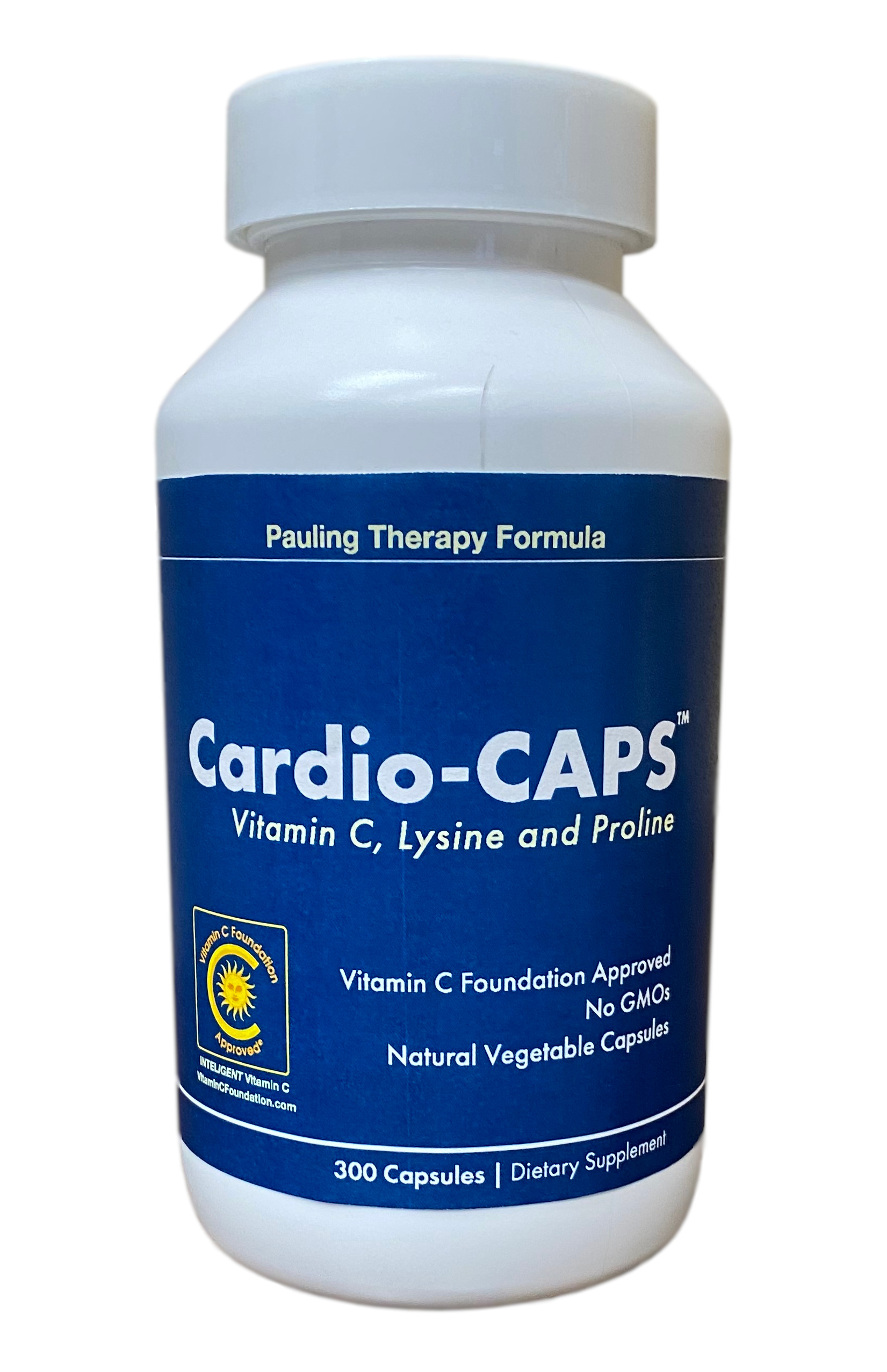 New Cardio-C CAPS™ Pauling-Therapy Capsules
Main Property: Pauling-Therapy as Capsules. The product provides Linus Pauling's specific Vitamin C and Lysine recommendations per the Unified Theory of Cardiovascular Disease (CVD) video lecture (1992) 150 servings per jar.
Great for travel or work, one bottle Cardio-CAPS™ is approximately equivalent Pauling-therapy to one Jar of the Cardio-C™ drink mix. Both provide 2500 mg of vitamin C per "serving." (1 scoop or 10 capsules) . However, there are no fillers, stevia or vitamin B2, and both lysine and proline are reduced.
The Vitamin C (as L-ascorbic acid) is Vitamin C Foundation Approved®
Our most popular product line, the original Cardio-C™ has a long successful history which can be read about in Owen's books.
Usage and Dosage Recommendations
1 to 2 bottles of Cardio-CAPS™ recommended per month: One bottle provides Nobelist Linus Pauling's preventive dosages, while 2 bottles per month provide Pauling's minimum therapeutic amounts of both Vitamin C and Lysine in vegetarian-safe capsules.
Note: Five (5) Cardio-CAPS™ servings (i.e., 10 capsules) provide the vitamin C equivalent of one scoop of the original Cardio-C™ drink mix.
See the product page for more details.
Tell a Friend. Our new autoship referral program can reduce the price of an ongoing Cardio-C™ repeat orders (autoships).
Cardio-C CAPS™ is a trademark of Inteligent*Vitamin*C Inc